Job Feed - Hackernews API
Create a Job Feed page where the latest job postings are fetched from the Hackernews API. On clicking the job posting, the user should be able to land on the jobs page, which is an external website.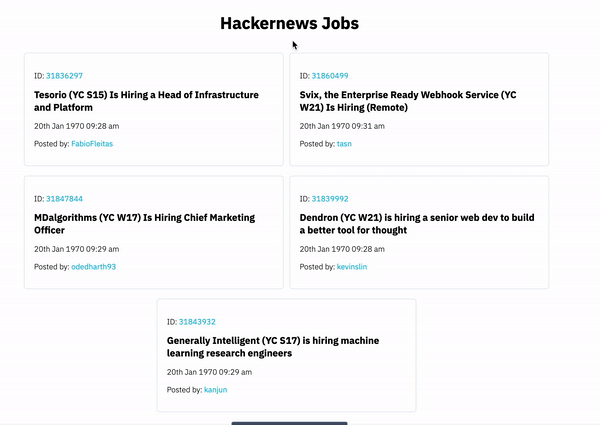 Tasks and Features
A user can see a list of available jobs (fetched from the Hackernews API)
A user can click on the job posting and it will take the user to a different website.
At a time, only 5 jobs are loaded. Once the user clicks on the load more button, the next set of jobs are fetched.
If there are no more jobs available, the load more button should be hidden or disabled.
The grid of jobs is responsive. On smaller devices, it should be a single grid layout. The grid can expand based on the screen size available.
The job details box should have a jobId, title, time and postedBy attributes.
Hackernews API to fetch Post IDs
https://hacker-news.firebaseio.com/v0/jobstories.json

Hackernews API to fetch post metadata based on post IDs.
https://hacker-news.firebaseio.com/v0/item/${postId}.json